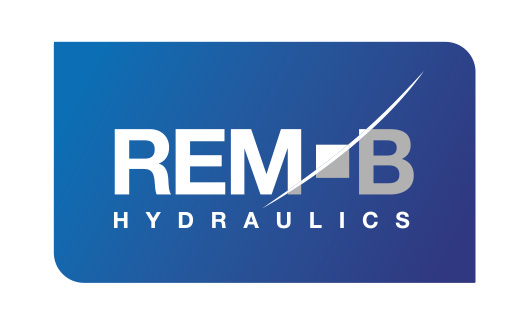 Nieuw! Enerpac DSX series hydraulische momentsleutels.
THE RIGHT TOOL MAKES ALL THE DIFFERENCE
Enerpac introduceert de nieuwe SDX serie momentsleutels. Deze innovatieve aluminium hydraulische momentsleutels met vierkantaandrijving zorgt er voor dat de operator  veiliger op hoogte kan werken met boutverbindingen.
Bouten vastdraaien op hoogte kent risico's
Vallende voorwerpen, gereedschap dat vast komt te zitten, vonken en gedraaide hydraulische slangen. In veel landen zijn ongevallen met vallende voorwerpen nog steeds een van de belangrijkste oorzaken voor letsel en dodelijke ongelukken op het werk.
Bij werk aan boutverbindingen op gevaarlijke locaties maakt de keuze voor het juiste gereedschap het verschil als het gaat om het voorkomen van letsel, ongelukken en onderbreking van de werkzaamheden.
Veiliger boutverbindingsgereedschap
De innovatieve DSX-serie hydraulische momentsleutels met vierkantaandrijving heeft als eerste in de industrie gepatenteerde functies voor veiliger en gemakkelijker werken op hoogte.
Productoverzicht
Hoogwaardig lichtgewicht aluminium
690 bar max. werkdruk
Modellen van 3/4" tot 2 1/2" vierkantsaandrijving
CE keurmerk
ATEX gecertificeerd
Accuraatheid +/- 3%
12 maanden garantie
"Quick-Release-Retained" reactie arm (gepatenteerd)
360 x 180 graden swivel
Smalle neus
Kenmerken & voordelen
Gemakkelijker in gebruik, lichter en veiliger ! 
Voorzieining veiligheidsketting voor veiliger werken op hoogte 
Gepatenteerde easy-to-use, quick-release, retained reactiearm
Retained quick-release push button
Standaard geleverd met een ergonomische veiligheidshandgreep
Multi-direction 360 ° x 180 ° high-flow aluminium slangwartel
Ratel met fijne tanden voorkomt dat het gereedschap vastklikt
Compacte neusradius voor krappe locaties
De zuiger met lange slag zorgt voor een hoge mate van rotatie van de moer; 35 ° graden
Ontwerp met hoge cyclus met minder bewegende delen, waardoor het een efficiënter hulpmiddel is om te bedienen, onderhouden of repareren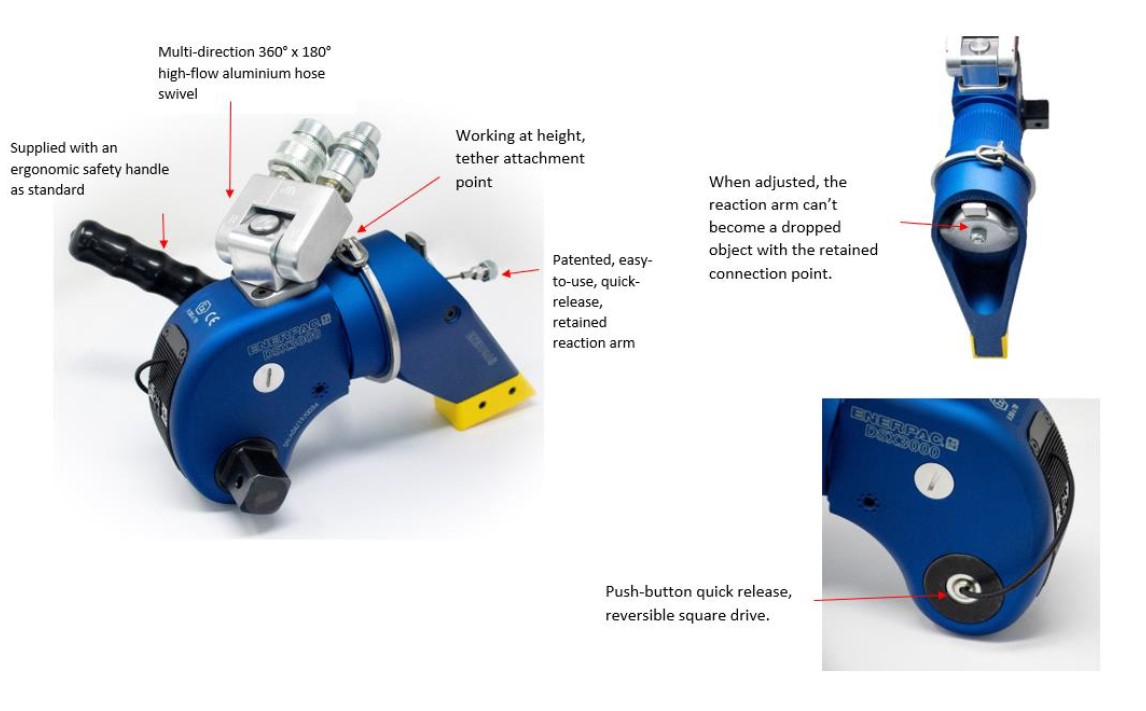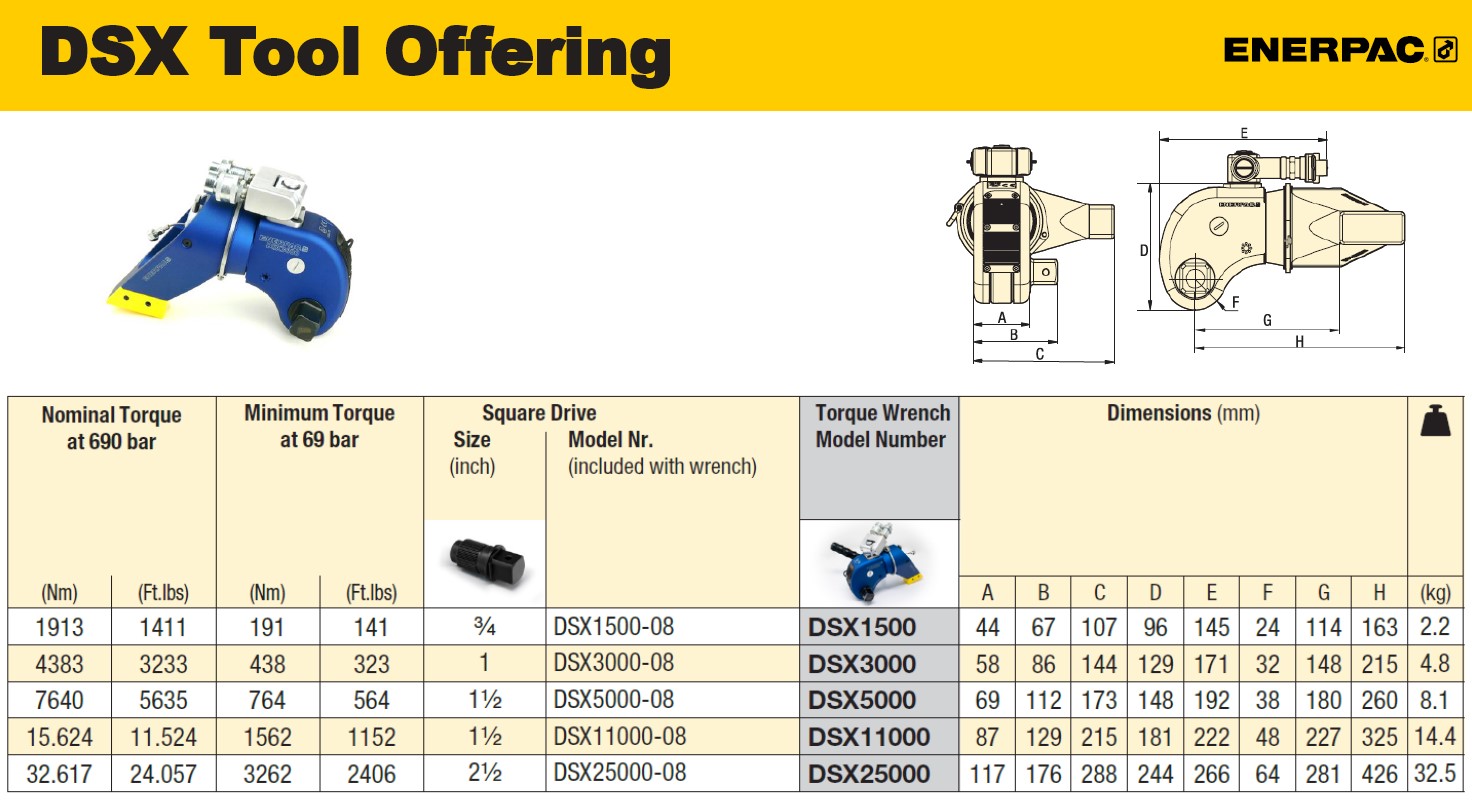 S SERIES

DSX SERIES

Square Drive Hydraulic Torque Wrench Comparison Table

Heavy users

V

V

MRO applications

 

V

Cost conscious asset buyers

 

V

Lowest maintenance cost

V

 

Suitable for rental fleet

V
 

Small footprint

V
 

Steel

V
 

Aluminum

 
V

Lowest weight

 

V

Standard calibration certificate

 
V

No-Drop safety features

 

V

Double swivel standard

V
 

Aesthetic design

 

V

Wide range of accessories available

V
 
 

Lowest Total Cost of Ownership

Productivity, durability, reliability and proven in challenging environments

 

Best Lightweight Tool

Aluminum tool with patented features to reduce dropped-object accidents
Meer weten?
Contacteer één van onze Enerpac specialisten:
Bel gerust +32 14 62 28 62 of stuur ons een mailtje op sales@remb.be