Repair and overhaul of hydraulic pumps & motors
REM-B HYDRAULICS: quality repair of pumps and motors
Revive the Power of Your Hydraulic System with Expert Hydraulic Pump Repair!
Is your hydraulic piston pump showing signs of wear and tear?
Don't let a malfunctioning pump bring your operations to a grinding halt.
We understand the critical role hydraulic systems play in your industry, and we're here to provide you with top-notch hydraulic piston pump repair services that will restore the power and efficiency of your machinery.
REM-B HYDRAULICS is properly equipped for the repair of a wide range of hydraulic pumps and motors.
For this we have the necessary machinery for cleaning, mechanical processing and assembly of components. All repaired pumps and motors are tested according to factory specifications.
REM-B HYDRAULICS has designed and installed state-of-the-art testing facilities, assuring you that you will get your material back in top condition.
We have a large stock of genuine hydraulic pump spare parts of Bosch Rexroth, Danfoss ( former Eaton Hydraulics ),  Vickers and Kawasaki hydraulic pumps, minimizing your downtime !.
Furthermore, we are an official distributor for Belgium for these aforementioned brands, namely: Bosch Rexroth, Danfoss Power Solutions ( Legacy Eaton hydraulics ) and Kawasaki.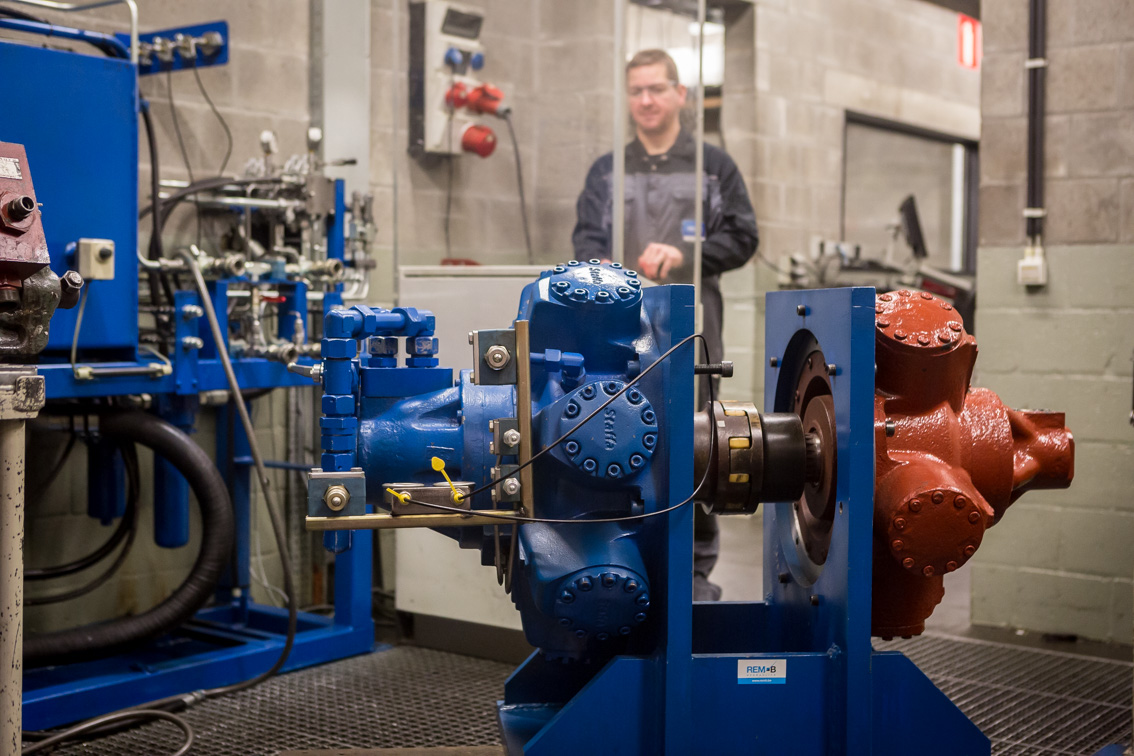 Repair of all brands
Quick turnaround
Large inventory of genuine pump spare parts
State of the art test stand
Power up to 400kw
We repair the following brands:
Brueninghaus | Düsterloh | Parker | Linde | Hydromatik | Dynapower | Pleiger | Bosch Rexroth | Danfoss | Poclain | Calzoni | Hägglunds | Rollstar | Caterpillar | Nachi | Sauer | Cessna | Hydro-Gigant | Staffa | Commercial | Kawasaki | Vickers | Denison | Liebherr | Enerpac | Eaton | Amca | Parker…
Why choose us for your hydraulic pump repair needs?
Here's what sets us apart:
Expertise: Our technicians are highly trained and well-versed in the intricacies of hydraulic systems, different types of pumps and different brands. They possess a deep understanding of hydraulic piston pump mechanisms and can diagnose and repair issues with precision and efficiency.
Quality Workmanship: We take pride in delivering top-quality repairs that meet the highest industry standards. Our team uses state-of-the-art tools and genuine replacement parts to ensure optimal performance and longevity of your hydraulic pump.
Timely Service: We understand that downtime costs you money and productivity. That's why we prioritize quick turnaround times without compromising on the quality of our work. We strive to get your hydraulic pump, motor or valve up and running as soon as possible.
Cost-Effective Solutions: Our repair services are designed to be cost-effective, offering you a viable alternative to expensive pump replacements. We assess the extent of the damage and provide transparent pricing options, ensuring you receive the best value for your investment.
Customer Satisfaction: Our commitment to customer satisfaction is our priority. We listen to your concerns, provide clear communication throughout the repair process, and go the extra mile to ensure your hydraulic piston pump performs optimally.
Don't let a malfunctioning hydraulic pump slow down your operation!
Trust us for reliable and efficient hydraulic pump repair services that will keep your machinery running at its best.
Contact us today and let our experts breathe new life into your hydraulic system.
For more info or enquiries: repair@remb.be or call: +32(0)14.62.28.60