REM-B HYDRAULICS has many years of experience in the sales and repair of hydraulic components and spare parts from Kawasaki & Staffa ( KPM, Kawasaki Precision Machinery ).
We are the official dealer for Belgium for industrial hydraulics KAWASAKI & STAFFA
We  have a wide range of  genuine hydraulic components and spare parts available from stock from the aforementioned brands.
Power. Precision. Control.
Kawasaki Precision Machinery ( KPM) is a total engineering company at the forefront of hydraulics, providing equipment for a wide range of applications including industrial, construction, agricultural and marine.
REM-B HYDRAULICS brings you the extraordinary range of Kawasaki KPM piston pumps and motors. 
Discover the pinnacle of hydraulic power, performance, and reliability with KPM's exceptional K3VL, K3V, K3VLS, K5V…hydraulic piston pumps, as well as their MX, M2X and Staffa HMC & HMB hydraulic motors.
Every component Kawasaki designs and every system they manufacture is the result of nearly 100 years of pioneering research, both in their own R&D facilities and throughout the Kawasaki Group.
By combining this world-class R&D with global manufacturing facilities, KPM can continue to push the boundaries of efficiency and control to achieve the maximum return for our customers.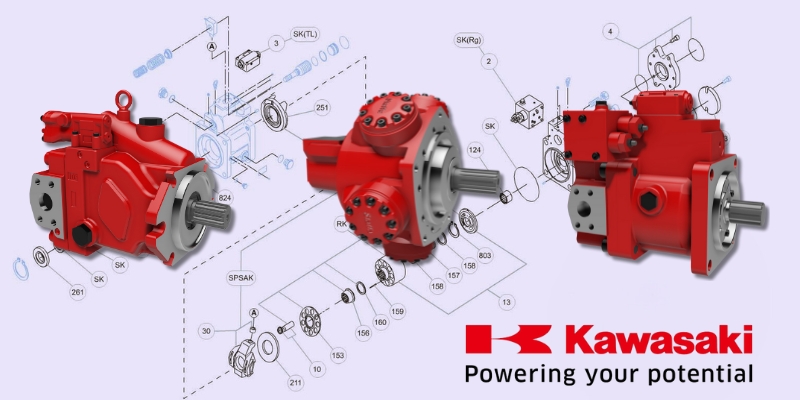 When it comes to hydraulic systems, precision engineering and cutting-edge technology make all the difference.
At REM-B, we proudly offer the renowned Kawasaki hydraulic piston pumps and motors, including Staffa's robust radial piston motors. Next to original, genuine complete pumps and units, we can help you with genuine, original spare parts. Available from stock!
Kawasaki's piston pumps and hydraulic motors are unrivaled powerhouses in the hydraulic world, setting the standard for excellence in demanding industrial, mobile, agricultural and marine applications.Their exceptional performance, reliability, and efficiency make them the pinnacle of hydraulic power.
The K3VL piston pump stands out with its exceptional high-pressure capability and unmatched durability. Its compact design allows for seamless integration into various systems, while advanced controls ensure smooth operation and optimized efficiency. With the K3VL, versatility and reliability are guaranteed.
When power is required in a compact package, the K3V piston pump delivers unparalleled performance. Engineered with precision, it ensures outstanding results in construction equipment, material handling systems, and other hydraulic applications that demand reliability. 
For those seeking the ultimate in hydraulic power, the K5V piston pump is the answer. Built to handle heavy-duty applications, it delivers exceptional horsepower, enabling top-notch performance even in the most challenging environments. With the K5V, experience hydraulic power like never before.
Efficiency takes center stage with our K3VLS piston pump. Equipped with innovative features such as Load Sensing Control and the Energy-Saving Function, the K3VLS optimizes fuel consumption, reducing operational costs while delivering superior performance. Get the best of efficiency and performance with the K3VLS.
In addition to our exceptional range of Kawasaki KPM piston pumps, we are proud to introduce the impressive lineup of Kawasaki hydraulic motors.
The M2X & M5X series, with their axial piston design, deliver outstanding power and precision.
The MX series offers high-speed, low-torque performance, making it ideal for industrial applications.
The Staffa HMC & HMB motors are renowned for their legendary performance and reliability in heavy-duty applications.
GENUINE KAWASAKI MOBILE SPARE PARTS
A very wide selection of original hydraulic spare parts for the mobile Kawasaki K3V & K5V series available from the shelf and ready to ship to you on the same day!
Our stock isn't limited to only the industrial KAWASAKI range, we can offer you also a lot of mobile spares available from stock.
At our company, we believe in delivering excellence to our customers. With Kawasaki KPM piston pumps and hydraulic motors, you can boost productivity, maximize uptime, and minimize energy consumption in your hydraulic systems.
Our commitment to quality ensures that you receive the best performance, every single time.
Contact us today to experience the Kawasaki advantage. Let our KPM piston pumps and hydraulic motors elevate your hydraulic systems to new heights.
With Kawasaki, power your industry with confidence and reliability.
[/container]
For more information regarding pricing, drawings, leadtimes, etc. please consult: www.rembconnect.be 
Or contact us:
T: +32 14 62 28 62
E-mail: sales@remb.be