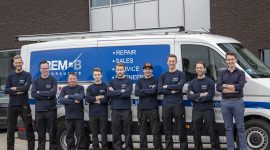 To meet all your maintenance and service requests, you can count on the REM-B HYDRAULICS' "on-site field service team" . Our highly qualified & experienced service technicians have access to a fleet or more than 10 highly equipped service vans.
Whatever the nature of the problem, our experts know how to solve it.
Quick interventions or extended maintenance contracts can be carried out,  by our hydraulic specialistsn whenever and where ever, either on your site or in-house in our modern workshop.
Larger components can be quickly disassembled, repaired or overhauled and reinstalled.
This is the complete service you get from REM-B HYDRAULICS.
REM-B HYDRAULICS is VCA ** certified (VCA ** = SCC **)