Eaton Vickers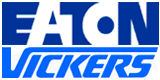 Vickers®, one of the most well-known names in hydraulic industry, has become part of Eaton since 1999. Vickers is an extensive supplier of hydraulic vane and piston pumps, valves, controls, cylinders and filtration products. Vickers pumps, motors, valves and other components are found in a very wide variety of industrial, mobile, aerospace, marine and defense applications worldwide.
REM-B HYDRAULICS, being the official EATON distributor for Belgium, can help you quickly and competitively with the following EATON VICKERS hydraulic products
Vickers Screw-In Cartridge Valves
Vickers Servo Valves
Vickers Filters
---
For more information on Eaton Vickers hydraulic products: sales@remb.be
or call +32 (0) 14.62.28.60
Shop online for EATON VICKERS ?
 Click on the following link:
to go to our webshop REM-B Connect to see prices, availability and information on EATON VICKERS products
---