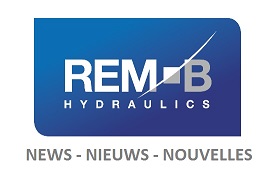 NEW ! REM-B is now officially a Hengst filtration distributor.
REM-B Hydraulics is very pleased to announce that as from 22th of April, the company has been appointed as an official distributor of Hengst filtration products.

Hengst is considered by many to be the leading expert in oil filtration.
Ever since the 1950's Hengst has been developing and manufacturing filtration and fluid management solutions for well-known automotive and engine manufacturers, as well as for many application areas in the industry.
Today the family owned company of 3500 employees with 21 locations worldwide stands for innovative solutions in filtration and fluid management.
To further complement their product line of hydraulic filters, Hengst bought the filter division of Bosch Rexroth in April 2021 Hengst offers a complete range of high-tech filters and filter elements that satisfy the highest standards. You will find the matching solution for all your filtration needs: from hydraulic fluids and lubrication oils to industrial fluids and gases.
The hydraulic filter division of Bosch Rexroth developed and produced complete filters and filter elements for industrial and mobile hydraulic applications. Bosch Rexroth's industrial filter branch has been part of the Hengst Group since the spring of 2021.
Then contract was signed today during a visit of Mr. Robert Ter Elst, Regional Sales Manager for the BENELUX.
For more information about our complete hydraulic product range:
https://www.rem-b.com/en/hydraulic-products/
.