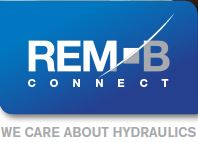 REM-B Connect Update
REM-B Connect is REM-B Hydraulics' online information portal and webshop. In service since early 2015, REM-B Connect has received a lot of new features and update in the course of the last months. Below you will find a summary of most important updates:
NEW SHORTLISTS
Rexroth A10VG, A7VO, A8VO
Eaton (Vickers) PVB, TA19, TA1919
5000 PARTS LISTS ADDED
Various types of Rexroth pumps and motors
Complete with drawings & detailed part info
Total number of parts lists is now over 25.000
FIND REXROTH PARTS DIMENSIONS
Need to identify an unknown part? In many cases checking the dimensions can help. We have added a clear list with several part dimensions which can lead you to the right unit code. The files can be found under Literature & Tools or by clicking here.
HELP IMPROVE REM-B CONNECT
Our purpose is to make your search for hydraulic parts easier. If you have ideas that can help to make that search even easier, we are happy to transform them into new features on REM-B Connect.